(

elven_ranger posting in

theatre
Dec. 28th, 2014
03:36 pm
)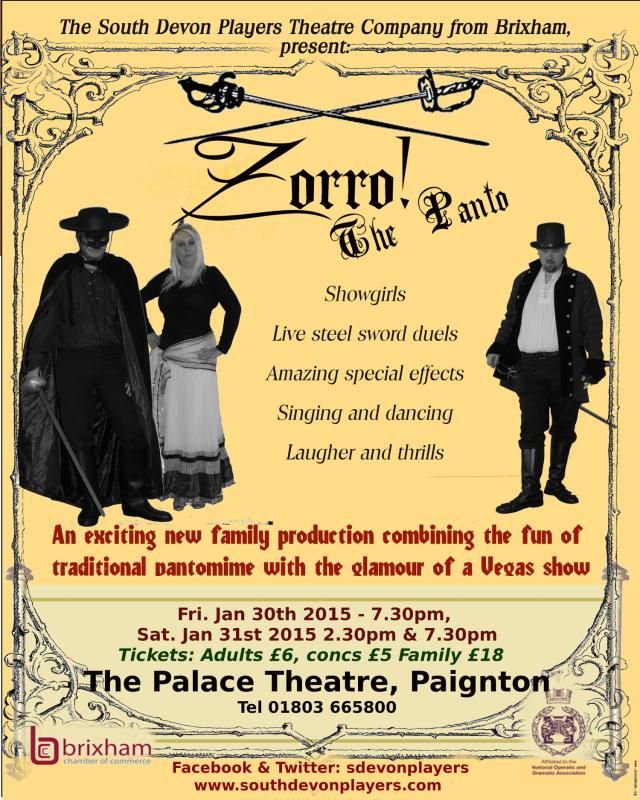 Always looking to create new dynamic theatre inspired by period drama, classical stories and legends, the Players now bring the tale of the dashing Zorro to the stage, in an all-new, family production, appearing at the Palace Theatre January 30th and 31st 2015.
Friday Jan 30th - 7.30pm
Saturday Jan 31st- 2.30pm and 7.30pm
Tickets Adults £6, Children £5, Family (2 adults & 2 children) £18
Book now via the Palace Theatre
Palace Ave, Paignton TQ3 3HF
01803 665800 /
http://www.palacetheatrepaignton.co.uk/
What a way to start off the New Year! Combining elements of traditional pantomime with the glamour of a Vegas-style show, and a 19th century legend of California's very own answer to Robin Hood, Zorro! Is a high-tech, family friendly, action packed and energetic production which will delight young and old alike.
Featuring an all-local cast with an age range of over 60 years between the youngest cast member and the oldest, all of whom have worked together to create an amazing new show, filled with laughter, glamour, high-tech effects, swordplay, music, showgirls and dance, the South Devon Players, a theatre company from Brixham, once again, return to the Palace Theatre to brighten your winter!
This show may not be suitable for people with medical issues affected by bright or flashing lights.
___________________________________________
An award-winning, not-for-profit theatre company based in Brixham, South Devon, UK We specialise in shows themed on historical events, classics, and legends. We tend to be a more non-musical group, but we do sometimes get into musical-related things as well. We rehearse at Chestnut Community Centre on Wednesday evenings and Sunday afternoons.
As with the majority of our main shows we perform at the Palace Theatre in Paignton, and are looking at expanding to Brixham theatre and maybe one or two others in the coming year.
We don't charge annual membership but instead each contribute £1 per rehearsal, which covers rehearsal hall rent.
You are considered a member as soon as you are cast in a show or working on the backstage crew for one, and once you have proven reliable as a member (good attendance, nice friendly conduct with others, etc), we add you to our careers development facebook group which is a group where we share local and national casting calls for film, theatre, modelling and related, and any local (Devon) training courses, which is a free perk to our members who want to develop a career related to the performing arts.
This summer and autumn quite a few things have come out of that, such as filming for Channel 5, being visited by the Britain's Got Talent scouts, performing in an international opera, etc. In the past we have also worked with the BBC, Disney, Smithsonian, ITV, and Sky TV. All costumes and scripts are provided each show, we are a range of people from those new to acting, through to semi-professional, and trained performers, everyone works together to produce a good show, and a pleasant supportive team. We strongly discourage "cliques" and forbid bullying and elitism, so that it is a friendly, respectful, safe, and energetic environment for everyone.
Join our monthly email mailing list at
http://www.southdevonplayers.com/join-mailing-list.html
Our main website:
www.southdevonplayers.com
Our facebook page:
https://www.facebook.com/sdevonplayers
Our facebook discussion group:
https://www.facebook.com/groups/southdevonplayers
Our Twitter:
https://twitter.com/sdevonplayers